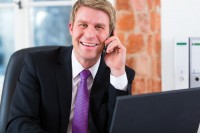 Marketing intake may not be something you've given much thought. After all, if they are reaching out to you, they should be pretty easy clients to get business from. That seems to be the common thought, even in businesses besides law firms. This is the wrong way to think about incoming clients.
When a person calls or emails your office, their first interaction with you will be a key factor in gaining their business. Being busy and not answering the phone, or taking too long to reply to an email, can cost you. Attorneys' jobs are important, yes, but they provide a service. When you look to purchase a service or product, it's easier to buy from a place that feels more welcoming. Answering the phone with the wrong tone and greeting can quickly turn someone else away. You might be a good attorney, but no one will want to do business with you if it doesn't seem like your firm cares that they are interested. This is where good marketing intake practices come in.
Lawyer Marketing released an article in their blog title, Get a Grip on the Client Experience. I highly recommend giving it a read, since it covers some pretty basic marketing intake practices that can make a world of difference to your potential and current clients.
Copyright: 123RF Stock Photo