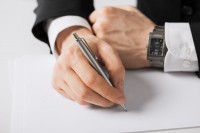 Taking Notes on Your Own Can Help
Court reporting is something many leave to outside sources for the depositions. Using an outside court reporter can be great, but doing your own reporting when acting as outside counsel can be even better. Mark Herrmann gave a few tips on how taking your own notes for deposition can. The three main points he made were:
Notes keep you focused on what matters
They aid your memory
You can use them to keep those working with you informed.
Check out his full article, Inside Straight: Reporting on Depositions. The article is posted on www.AboveTheLaw.com.
Copyright: 123RF Stock Photo