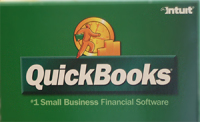 QuickBooks Certified ProAdvisor and Law Practice Channel contributor Lisa Wagner knows more than her fair share when it comes to how firms can use QuickBooks. She has helped multiple law firms across the nation set-up and use the popular accounting system. I came across one of her article's about the system, and thought it would be more than helpful for any attorney looking to use it. It includes the several resources, all of which cover a broad range of helpful tips.
Lisa's original blog post can be found at:
http://www.advocatecapital.com/2013/05/28/law-firms-using-quickbooks-setting-up-tracking-case-costs/.