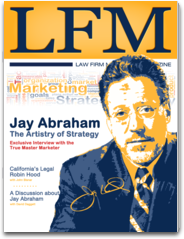 Some of you may have heard about the new publication available for the iPad called Law Firm Marketing.  If you have not, I suggest you check it out. It was launched in October of 2012. It is the legal industry's first interactive, digital magazine and it's now available for free! It is designed to help you learn the best marketing practices from other successful lawyers as well as some of today's top legal marketing experts. You can get the latest issue free by subscribing on iTunes or downloading the app by clicking here. Since the magazine is digital, it makes use of video interviews, hyperlinks and other interactive content. You can download the magazine in several different languages as well.
If you do not have an iPad, don't worry! You can view the recent video interviews feature in the magazine on The Law Firm Marketing Magazine YouTube channel.
In the very first issue, the magazine featured Gerry Spence.  Spence is widely known as one of the best trial lawyers of all time, which is why he was an easy pick to be featured in the first edition of the magazine.  Spence founded the Trial Lawyers College in 1994 and has an amazing record of accomplishments with zero criminal cases lost. Also featured so far in the magazine is current American Association for Justice President, Mary Alice McLarty and well-known marketing guru, Jay Abraham.
Cindy Speaker is the CEO of Speaker Media and Marketing and the developer behind the Law Firm Marketing Magazine. She is known as "The secret weapon of personal injury lawyers and trial attorneys throughout the U.S." It is no wonder attorneys across the country run to Cindy for marketing advice, she has an extensive list of successful clients as well as a published documentary, "Well of Dreams". She believes this magazine will help law firms stay on top of an ever-changing marketing landscape.
If you are a trial lawyer (or are involved in law firm marketing) you should download your own copy of Law Firm Marketing right now!
Tina Burns
Vice President