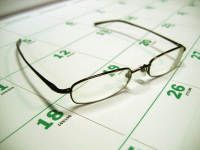 There's more to "seasonal web content" than just following the calendar patterns of spring, summer, fall, and winter. There are many more seasons that matter to different businesses. CPAs, for example, perk up around tax season, while roofers and disaster repair specialists might see a pickup in web searches for their services around hurricane season.
Attorneys: Take a Look at Your Own Seasonal Observations
Seasons exist for attorneys as well. If you've been practicing for a while you should have started to notice trends in your caseload and the types of cases you get during certain times of the year. Understanding this information will help you craft the most relevant content for the season. For example, many family law attorneys find that January is a major month for divorce cases.
Personal Injury: Consider the Recreational Seasons
For personal injury attorneys, there's never an "off season" where people don't get injured in accidents. However, depending on where you practice, there are several "seasons" that can influence the types of accidents you see.
Injury attorneys in warm coastal areas like Florida and California may see patterns of decreases and increases relative to weather and tourist season in water-related accidents.
Boat crashes
Parasailing injuries
Defective water products like jet skis
Personal injury lawyers in rural areas may see an increase in hunting accidents during the various game seasons. Lawyers in or near large cities with high tourism may anticipate more accidents with lost or distracted drivers from out of town during certain seasons.
Keep in mind the major holidays to tailor content to those celebrations, like pedestrian safety for Halloween and decorating safety during the winter holidays. Another type of content to keep in mind during holidays is driving safety.
Every year AAA publishes heavy traffic warnings during major holiday weekends like Memorial Day Weekend, Labor Day Weekend, and 4th of July Weekend. These are all times when more people take road trips or drive while intoxicated from holiday parties.
Seasonal Calendars Can Help You Plan for Maximum Content Success
If you're going to take advantage of content seasons to increase web traffic and lead gathering, do some pre-planning. At the start of every year make up a content calendar and highlight all of the different seasons that matter to your law practice. They don't all have to be legal-related, either. If you have a charitable cause that's near and dear to your heart like breast cancer awareness, highlight that in October during National Breast Cancer Awareness Month.
Planning seasonal content in advance allows you to ensure your content is written, proofread, and ready to post when the appropriate season comes up. Not only does this help you keep your content timely and current, it also ensures you'll have something ready to post when you don't have a regular article or blog to go up.
If you're hitting a wall trying to come up with seasonal content, don't fret! We Do Web Content has your back! Just fill out our contact form and we'll be in touch to discuss your practice and what kind of content we can provide year-round to take advantage of the seasons and other hot topics in your area. Call us at 888-521-3880.