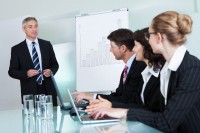 Getting yourself motivated to take courses for your CLE can sometimes be quite challenging. This is especially true if you have a busy schedule. This lack of motivation and time is something that every educated professional will more than likely deal with at one time or another. While I most certainly am not a lawyer, I too must find time to take courses that will benefit my own career.
I recently came across an article on www.AboveTheLaw.com titled, Beyond Biglaw: Back To School (Or, Some Tips About Continuing Legal Education), written by Gaston Kroub. Mr. Kroub comes up with several good points that can not only help other attorneys stay on top of their CLE, but also help them enjoy taking the courses. They include:
Using technology to better locate and take courses.
What types of courses attorneys can take.
How teaching CLE can contribute to your own education.
The advice Mr. Kroub gives in this article helped motivate me to stop putting off the enhancement of my own education, and I'm sure it can help motivate you. To view the full article, click here.
Copyright: Andriy Popov