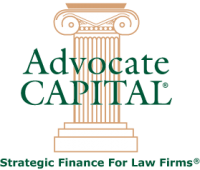 Advocate Capital, Inc., is a commercial finance company that was founded in 1999. Our main focus is providing an alternative to the "interest free" loans that most trial lawyers make to their firms for case expenses. We do this through a unique combination of commercial lines-of-credit and specialized accounting services.
Our clients are the best and the brightest of trial law firms from all over the United States. Our typical client-firm is a well established, experienced trial law firm whose partners are high-net-worth attorneys at the "top of their game". Many are leaders of state and national trial lawyer associations, and quite a few are authors and expert speakers in the profession.
Advocate Capital, Inc., has enjoyed consistent, rapid, profitable growth during its history and now has clients in over 35 states. We look forward to adding you to our family of satisfied clients!
Website: www.advocatecapital.com