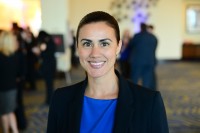 Yvette Valencia is an expert at writing search engine optimized Web content humans love to read and share. She specializes in helping law firms identify the information their prospective clients are searching for online and developing content strategies that drive the right kind of traffic to their sites.
Through her company, We Do Web Content, Yvette upholds the standard for quality inbound marketing. Her mission is to help lawyers understand this standard by identifying what's important to their potential clients, providing these prospects with information they'll find helpful and trustworthy, and then, seamlessly merging the two with the law firms' business goals. Most recently, Yvette authored a second book called 10 Reasons Your Website Doesn't Generate Leads, which offers law firms advice on developing an effective content marketing strategy.
Prior to co-founding We Do Web Content, Inc., Yvette honed her skills as a presenter and writer when she served as the lead corporate trainer for two major international banks: ABN AMRO Bank (4 years); and Deutsche Bank (2 years).
In addition to managing the day-to-day operations for We Do Web Content, Yvette is passionate about music, fashion, and being a loving wife and mother to two amazing little boys.