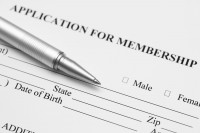 If You Join a Bar Association, Join It for the Right Reason
Many lawyers, especially solo practitioners or those in small firms, might often find themselves wondering if joining a bar membership is worth it. The more I've read into this dilemma, the more I realize how common this question is. With that question in mind, I did come across two articles on AbovetheLaw.com that might help.
The first article, Will Joining A Bar Association Help Solos And Smalls Get Clients, was written by Carolyn Elefant. She doesn't go completely against bar associations in her article, but she does make a point about how they are poor for meeting clients. This brings me to the second article.
Why You SHOULD Join A Bar Association (A Response to Carolyn Elefant), was written by Keith Lee. His reason is obvious, given the title. He points out in the article that while you aren't likely to obtain new clients by joining a bar association, you would be still be able to enhance your business development. How so? Because you would be increasing your professional network, which can go a long way if you actually know the attorney who is opposing you in a trail.
I only scratched the surface of the articles, so feel to check them out yourself by clicking the links above. From what I gathered, I believe joining a bar association can be a good thing… If you are joining for the right reasons and picking the right association.
What are your thoughts on joining a bar association? If you'd like to contribute an article of your own on this topic, or any others, feel free to submit a "Become an Author" form by clicking here.
Copyright:Stepan Popov