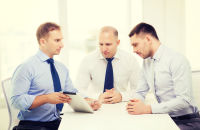 A basic fundamental part of convincing someone to believe you is providing visual evidence to back up whatever you are trying to prove. Many attorneys know this to be true in the courtroom. After all, seeing is believing. I recently came across an article by Daniel L. Buckfire, an attorney with Buckfire & Buckfire, P.C. In his article, titled 'The Benefits of Using Visual Aids With Expert Testimony," Daniel talks about the use of visual aids in personal injury cases, and goes in depth on the following:
The importance of visual evidence
The use of substantive & demonstrative visual evidence
Legal exhibit companies
New technology
View Mr. Buckfire's full article, click here.
Copyright: 123RF Stock Photo