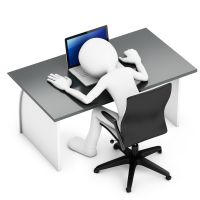 I often times find myself dreading an upgrade to my computer's hardware. And the thought of having to switch to an all new computer downright irritates me. This is coming from a guy who considers himself relatively "tech-savy." But, I think that many will agree with me when I say figuring out things like what the best processor is can be an absolute headache.
Recently I began doing research on laptops, unsure of which one to buy. It was during this research that I came across an article that I think might help point you, myself and the majority of the population in the right direction. Jeff Bennion discusses a few things he believes people should know about computer hardware upgrades in his article, "Why Upgrading your Computers Isn't As Scary As you Thought." He covers the following common areas:
Hardware (processors, sound cards, hard drives, etc.)
Included Equipment (DVD drives, USB ports, VGA ports, etc.)
Operating System
Jeff ends his article with a section called, "The best Upgrade You Can Buy." To find out about it, view the full article here. I assure you, it's worth the read.
Copyright: 123RF Stock Photo